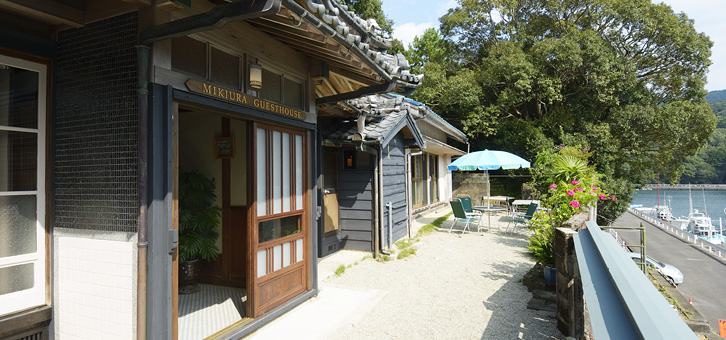 About the Mikiura Guest House
Mikiura-cho is a picturesque fishing village between Kata bay and the mountain, prosperous with sea bream farming and Ise ebi (Japanese spiny lobster) fishery. The village has long been a base of pelagic fisheries, and the villagers still have the undaunted seaman's spirit. Glimpses of the history of the village can be found here and there, from the old Miki castle to nostalgic ruins of abandoned settlements. You will find surprises at every corner of the village.
Mikiura Guesthouse [Former Okuchi House] is an accommodation exclusive for one group at any one time, boasting cozy old Japanese-style house and stunning sea views. Enjoy your holiday time to the full in the seaside retreat.
About the Shichinosuke-Ya Former Okuchi House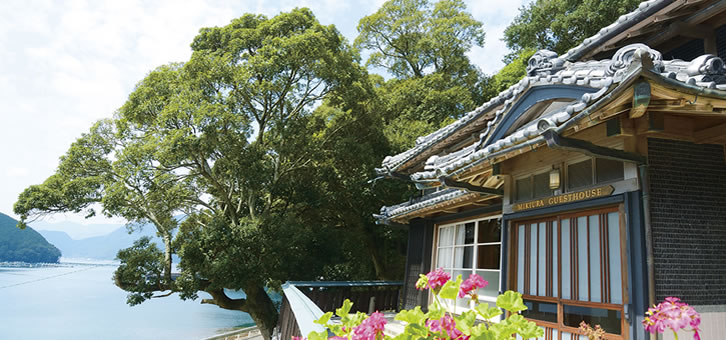 The 70-year-old former Okuchi house was vacant for about 10 years. After a project of renovating the house rented it from Okuchi family, the house was rejuvenated as a guest house in September 2014 with the help of many people. Guests are one-day "owners" of the former Okuchi house. Your voices and laughers rejuvenate the house as a part of the village life.
Age of Building
More than 70 years (Old Japanese-style house built in 1950)
Structure
Wooden tiled roof with conventional post and beam structure
Layout
1st floor: Japanese-style room of 6 mats, Japanese-style room of 8 mats with alcove and built-in table, Dining room with wooden floor, lobby with Shinto altar, Kitchen with kamado stove and earthen floor, Bath room with shower and cypress bath, and Flushing toilet with washroom
Mezzanine: Small library room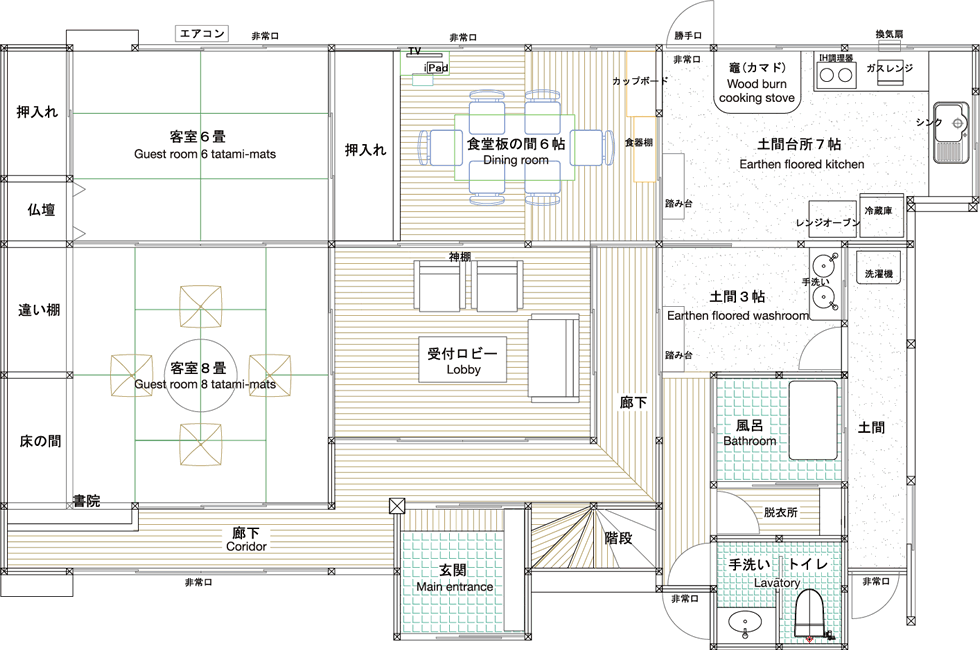 Go across time of 70 years
When the house was built as a residence of Okuchi Kisen Company, the road between the house and the sea was not there. The former resident, Hiroko OKUCHI recalls that she could dive into the sea directly from the steps in front of the entrance. In her fond memory, the garden with a dock was a nice and cozy place with blowing sea breeze.
Okuchi Kisen was a company operated bulk carriers to Southeast Asia and domestic major ports, owned four ships at its heyday.